A special thank you to our partners at Sprit of the Sun for sharing about what it means to be Two-Spirit, and for providing information about two individuals who have implemented substantial change within the Native community through out history. It's a privilege to be able to share these stories and to learn more about Two-Spirit people in Indigenous culture. Spirit of the Sun is an Indigenous Womxn-led non-profit working to empower native communities.
What Does it Mean to be Two-Spirit?
In Native communities, Two-spirit is an umbrella term used to refer to a person who identifies with both masculine and feminine spirit, and is also used by some Native people to refer to describe their gender, sexuality, and/or spirituality. The root of the term is from the Ojibwe, an Anishinaabemowin term, niizh manidoowag, which means "two spirits."
Hastiin Klah (Diné)
"Hastiin Klah was a master sand painter, chanter, weaver and healer. There are four genders in Diné tradition and Klah was considered a Nádleehi (or "one who changes")—an individual who exhibits the characteristics ascribed to the opposite sex. According to historical sources, Klah is believed to have been intersex.
Born in 1867, Klah represented the Bear Mountain area (now Fort Wingate, New Mexico) and was considered exceptional in a multitude of areas. As a youth, Klah had a gift for traditional chants, which often take days to correctly recite. He learned weaving from his mother and sister, and traveled across the U.S. to showcase these skills at the 1893 World's Columbian Exposition in Chicago.
Klah single-handedly saved the Navajo weaving tradition in the face of religious persecution. In 1921, he met heiress Mary Cabot Wheelwright and the two became close friends. Together, they formed the Wheelwright Museum of the American Indian in Santa Fe. Klah was integral in the museum's design, implementation and curation; he even blessed its grounds. He passed away before the museum opened in 1937." Sourced from KQED.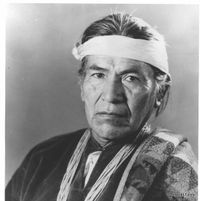 Candi Brings Plenty
Candi Brings Plenty doesn't just embrace change. She has a history of making it happen.
As the indigenous justice organizer for the ACLU of South Dakota, Candi works to build the ACLU's public education and advocacy programs through coalition-building, leadership development, communication, and lobbying. She leads the efforts surrounding the ACLU's NoKXL, NoDAPL, MMIW, and Two Spirit visibility work. She is also the organizer for all West River ACLU campaigns in South Dakota.
Candi, who identifies as Two Spirit – a modern umbrella term for indigenous people that recognizes there are multiple genders and that sexuality can be fluid – is a lifelong advocate for justice. As a Lakota cultural practitioner and through her spiritual activism, Candi works to bring her medicine to the Oyaté and advocates especially for the empowerment and visibility of Two Spirit warriors to reclaim their walk of life in the sacred circle.