Step off the Sidelines and "Be a Part of the Conversation Every Day"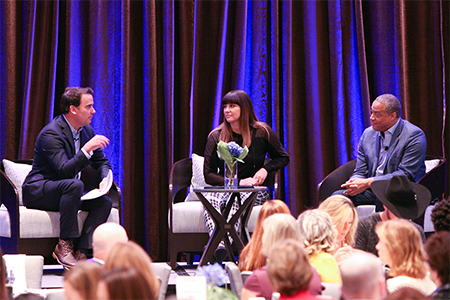 Photo Credit: Jan Pelton Photography
More than 300 advocates, activists and supporters of The Blue Bench gathered Wednesday, Sept. 25 in Downtown Denver for the organization's Changing the Conversation Luncheon. This annual event focuses on inspiring the community to take part in a dialogue around sexual assault.
This year's emcee, Chris Vanderveen, facilitated a conversation with the luncheon's panelists, activists Brenda Tracy and Don McPherson. The wide-ranging discussion tackled several topics, including sexual violence as a women's AND men's issue, sexual assault and college and professional athletics, supporting survivors, and more.
Tracy, the survivor of a gang rape by four men, including three college football players, came forward as a survivor in 2014. Shortly after, she made it her personal mission to combat sexual assault and engage men in this mission. "I asked myself, what are the men doing? If most of this violence is perpetrated by men, then it's a men's issue. What are the men doing about this then? It's their issue," said Tracy. "The conversation has to change in a way that we are engaging and empowering our men to be a part of the solution and not just always talking about them as a problem. Women alone can't stop sexual violence, we've been trying."
McPherson echoed Tracy's sentiments. He added, "We need to have a conversation about the culture of masculinity that leads to men's violence against women in a way that is sustainable and that's not just punitive or that's not just shaming."
To further her mission, and to start these conversations, Tracy founded the organization and campaign #SetTheExpectation. Through #SetTheExpectation, Tracy speaks with coaches and young men and boys in college athletic programs. "These athletes are looked up to, and what happens is, they stand up, and there's a ripple effect, and it spreads out to the campus and out into the community," explained Tracy.
In addition to engaging these athletes to take a stand against sexual assault, Tracy aims for policy change. Recently, the University of Texas San Antonio implemented a policy dubbed the Tracy Rule. She described the rule as treating behavior in the same way that many athletic departments treat grades. She said, "The Tracy Rule attaches eligibility [to play in games] to behaviors, like we do grades. What happens in the mind of the young athlete when they know behavior matters and they can lose their eligibility?"
McPherson added, "The important work that Brenda is doing is forcing some transparency." Furthermore, he noted that professional athletes are not held to a standard like the Tracy Rule. "Pete Rose cannot be in the hall of fame. Why? Because he gambled. If a football player is caught gambling, he will never play in the NFL again, but if he beat his wife or rapes someone, he might get a job on another team next week,"
Tracy also shared with the audience some of her experiences as a survivor to illustrate the importance of hearing and believing survivors. In 1998, as Jane Doe, she endured hearing others call her a liar and question her motives. She said, "What happened to me in 1998, when people didn't believe me, that pushed me into a dark path." Her experience in 2014, on the other hand, was vastly different. "After coming forward in 2014, my community loved on me, they reached out to me. It was the exact opposite of what happened in 1998. I'm here today because of the way the community responded to me. The way you respond to survivors is crucial. In 2014 I was believed and I was loved. I'm sitting on this stage today and thriving."
At the conclusion of the luncheon, both Tracy and McPherson challenged the audience to continue the conversation beyond the luncheon. McPherson said, "Don't make this a luncheon, make this the rest of the afternoon, make it tonight, make it tomorrow, continue the conversation. . . Be a part of the discussion every single day."