Women's History Month
March is Women's History Month, and this year we're looking back at the critical role women played in the anti-sexual violence movement.
1792
Mary Wollstonecraft published A Vindication of the Rights of Women. This publication recognized the domination men had in social, political, economic, and educational institutions. She fought the notion that women were merely meek and modest, and that their role was only as shallow playthings for men. She supported the idea that women should be equal partners to their husbands. This was one of the first times that a woman wrote and published the experience faced by many women around the globe.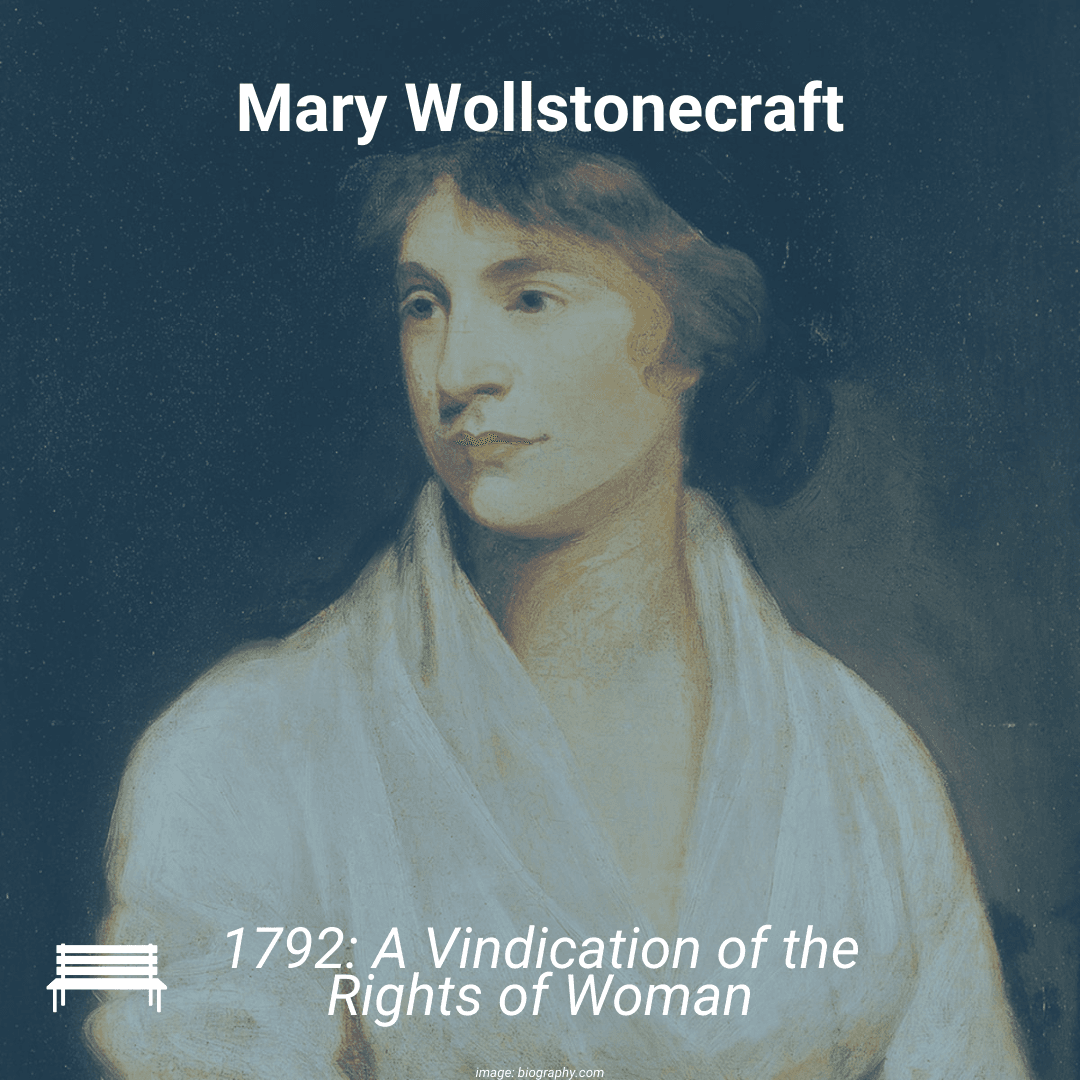 1830s
Women become a driving force in the anti-slavery movement. The Grimke Sisters, Angelina and Sarah, were early abolitionists in the 1830s. Born into a slave-holding family, they rejected their upbringing and family and joined the Quakers (notable abolitionists). They publicly spoke against slavery and published anti-slavery newspapers. They also championed women's rights and autonomy, and their work inspired more women to enter politics and activism.
1848
The Women's Rights Convention was the first major organizing movement on the national scale. This convention was a response to an earlier Anti-Slavery Convention, at which men attempted to silence women. The abolition movement taught these women effective ways to organize and articulate a protest. This 1848 convention was led by Susan B. Anthony, Lucy Stone, and Lucretia Mott, and called on women all over the country to organize.
1851
Sojourner Truth delivered her famous speech Ain't I A Woman in 1851 at the Women's Rights Convention in Akron, Ohio. This was the first time the connection was made on the intersectionality of race and gender. Sojourner Truth was formerly enslaved and had escaped to freedom. She became a prominent abolitionist, and later joined the women's rights movement.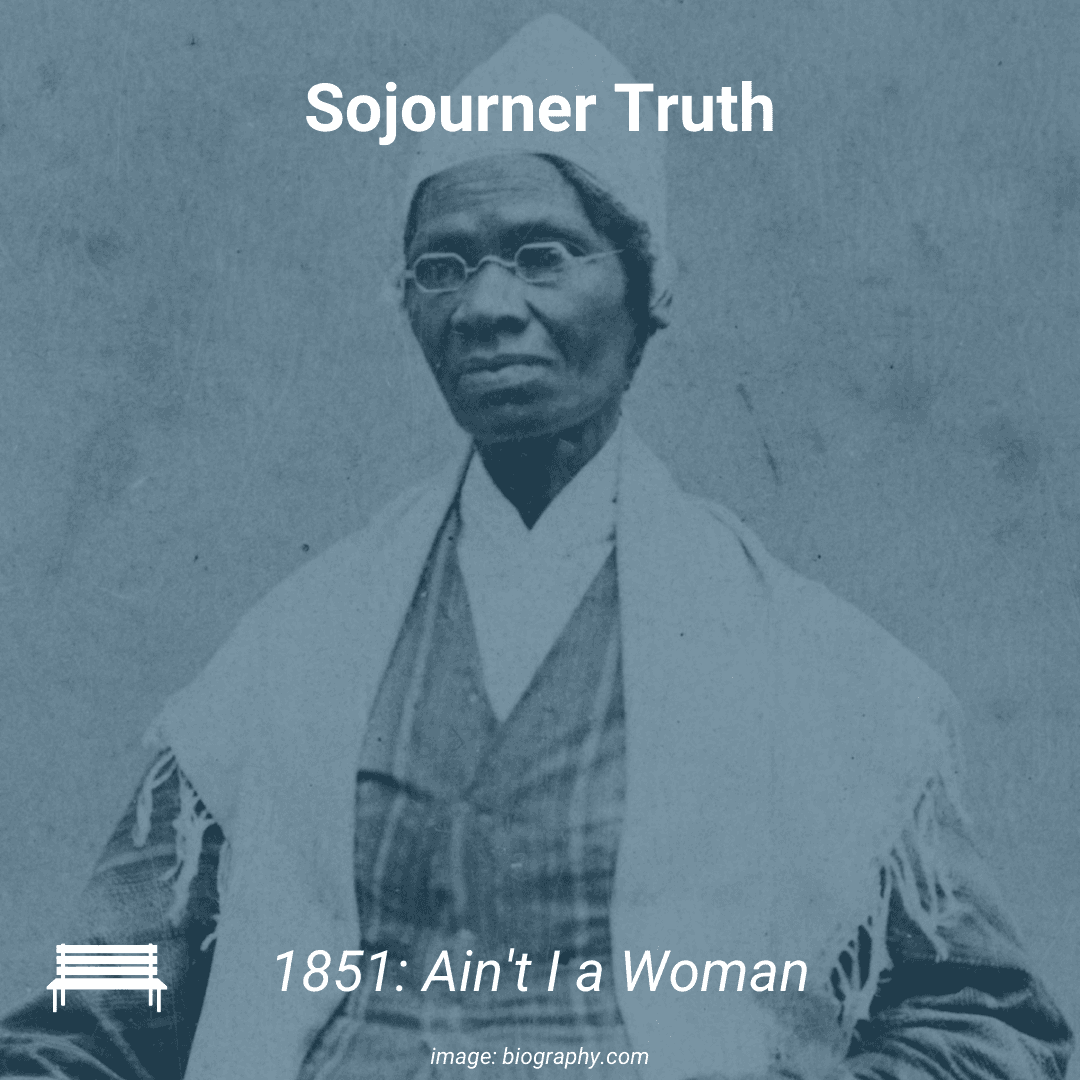 1866
In the spring of 1866, racially motivated violence broke out in Memphis, Tennessee in what is now known as the Memphis Massacre. A white mob terrorized Black citizens for three days, leaving 46 Black people dead and 75 injured, and 91 homes, 4 churches, and 8 schools were burned. Five Black women reported being raped, including Lucy Tibbs. She courageously publicly testified, and was interrogated by the US House Select Committee. Tibbs had to provide her full name and address, risking retaliation. Tibbs, alongside the other survivors of sexual violence from the massacre, are often credited as the first survivors of sexual assault to testify in public.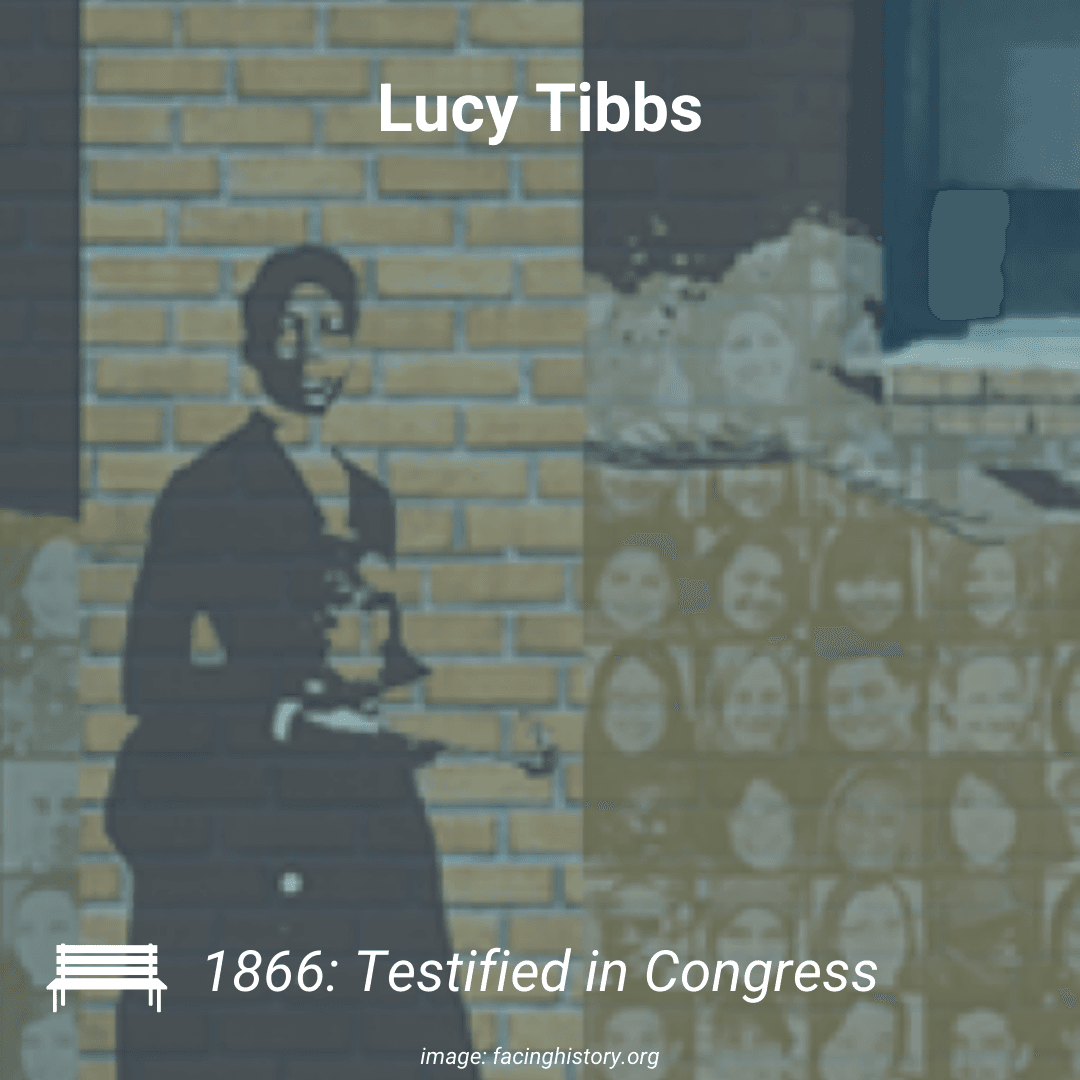 1900s
Women begin re-defining their roles as wives and mothers. Women also begin assessing their reproductive rights and bodily autonomy.
1920s
Women gained the right to vote with the passage of the 19th Amendment.
1960s
The second wave of women's activism was intertwined with the Civil Rights Movement of the 1950s and 1960s. Fannie Lou Hamer was a famous Civil Rights activist of the time, and while fighting injustice she suffered many instances of extreme violence at the hands of police, including being beaten, groped, and stripped. She was also forcibly sterilized without her consent by doctors during an exam.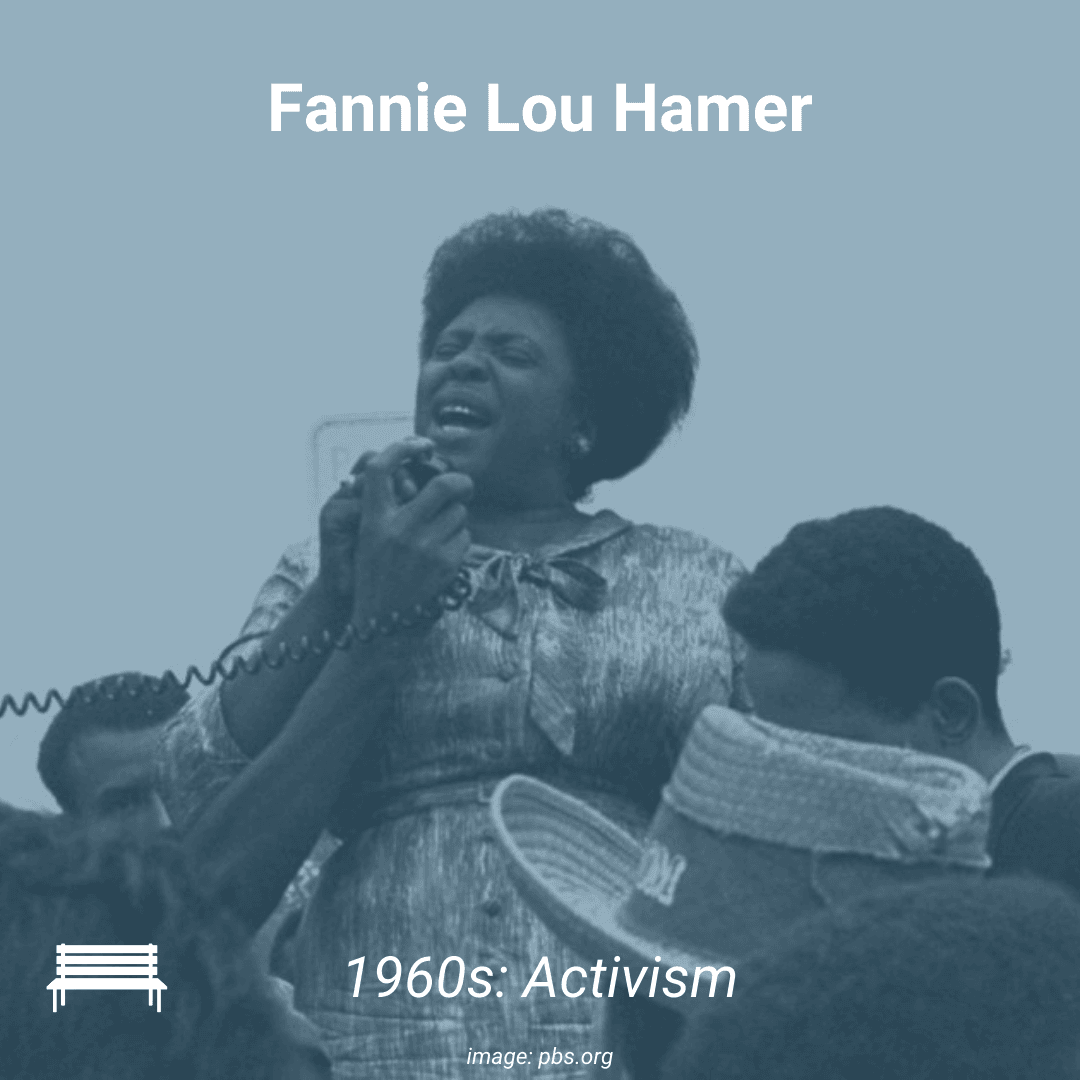 1970s
As early as 1971-1972, sexual violence crisis workers established some of the first 24-hour crisis hotlines for people experiencing sexual violence and it's aftermath to call and talk through their trauma. Survivors often felt silenced- by their partners, by their family, by law enforcement and the legal system. Crisis hotlines opened the door for survivors to voice their experience and receive help in navigating their trauma.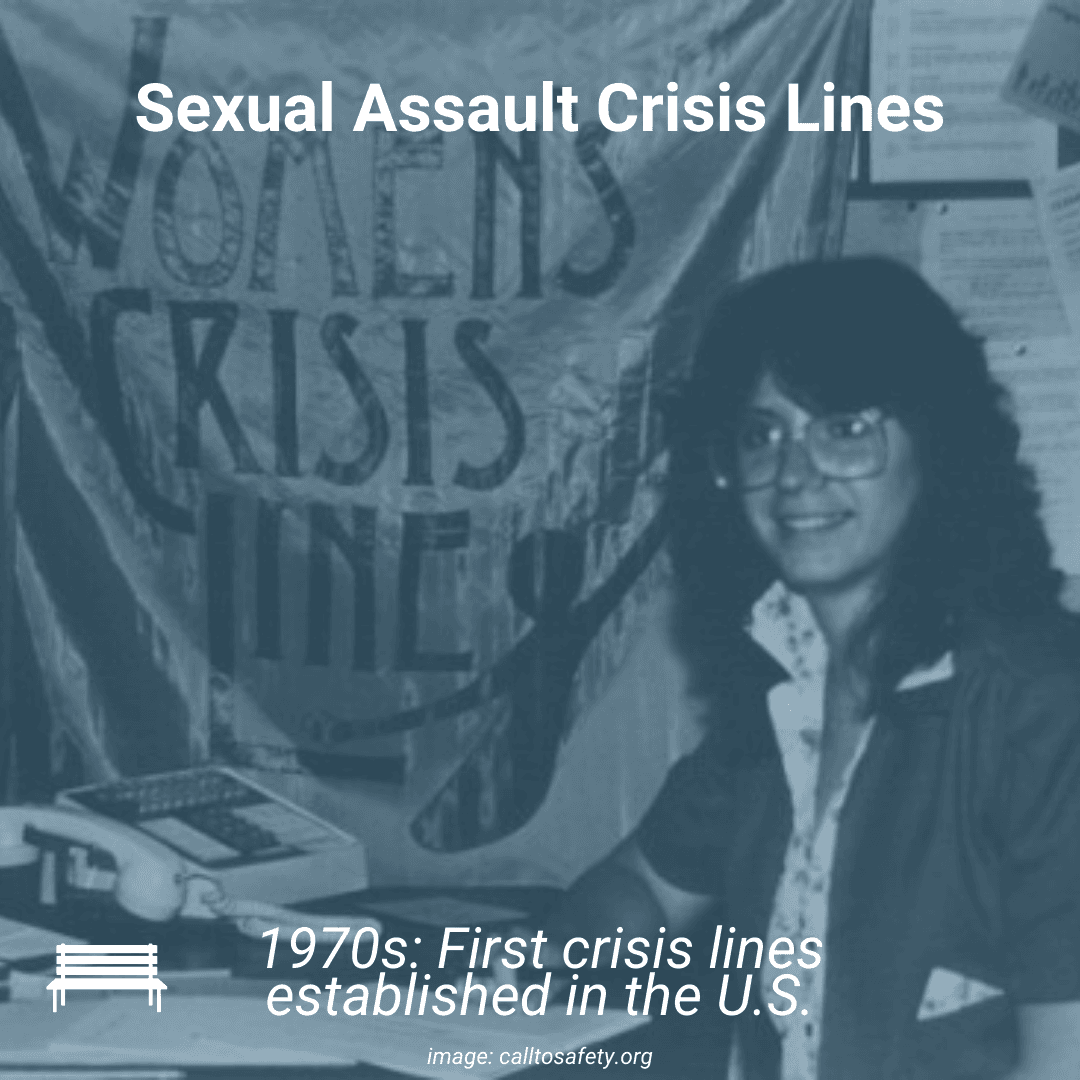 1982
This year marked the first time that there was a federal allocation of funds created for sexual assault crisis centers.
1994
The Violence Against Women Act (VAWA) passes Congress and is signed into law. VAWA creates and supports comprehensive, cost-effective responses to domestic violence, sexual assault, dating violence and stalking.
2006
The term Me Too is first used by Tarana Burke, a women's advocate in New York, on Myspace, using it as a phrase to uplift survivors by letting them know that they were not alone, that other women had similar experiences.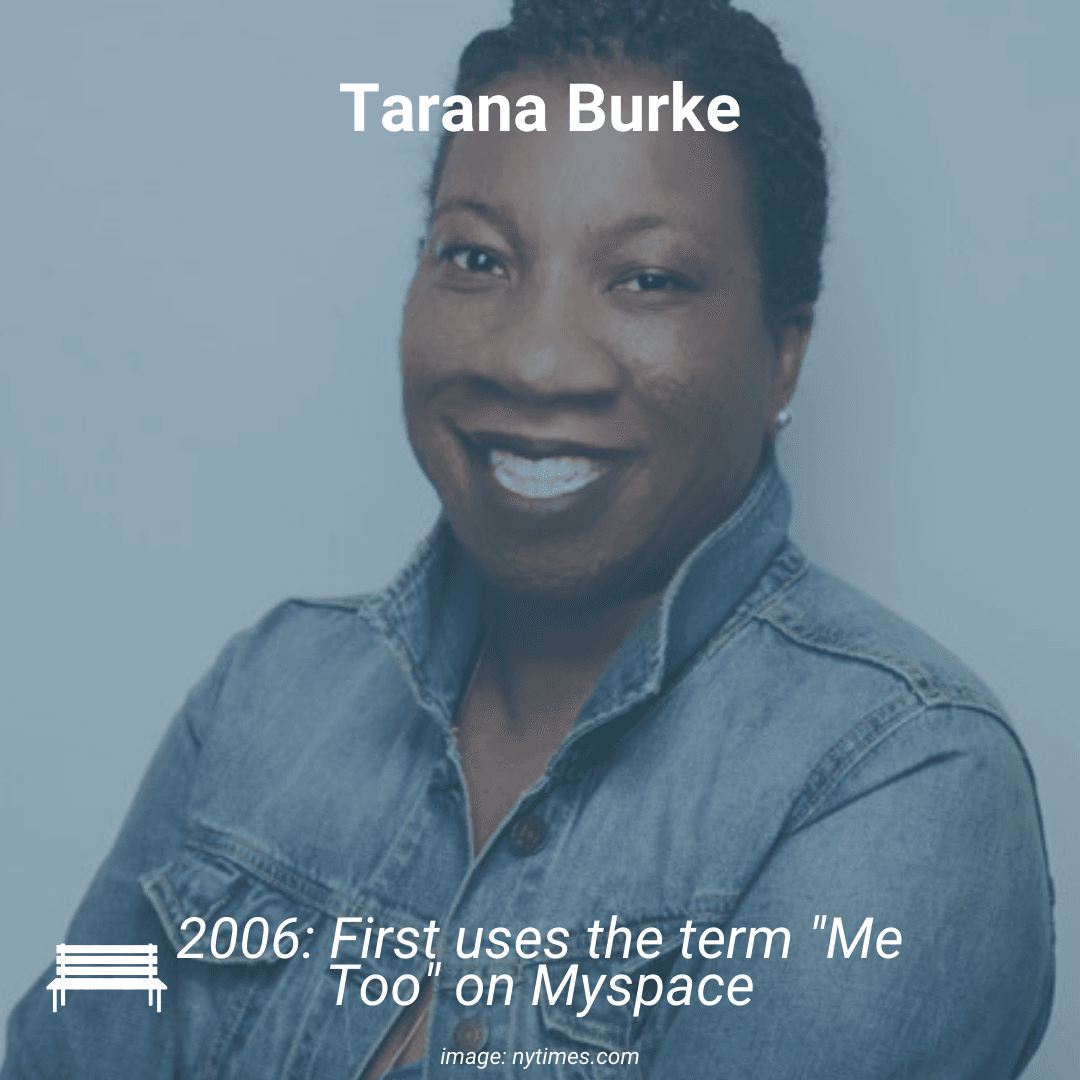 2017
#MeToo is reintroduced as a means for women to share their stories of sexual violence. This begins in Hollywood as survivors of Harvey Weinstein's abuse share their stories, but gains momentum across many industries all over the world. #MeToo becomes more than a hashtag and creates a movement of survivors demanding change and letting their stories be known.
Today
Women all over the world continue to demand justice for survivors of sexual violence and share their stories to uplift one another.