Safety and Empowerment Skills Class: Session 3 of 3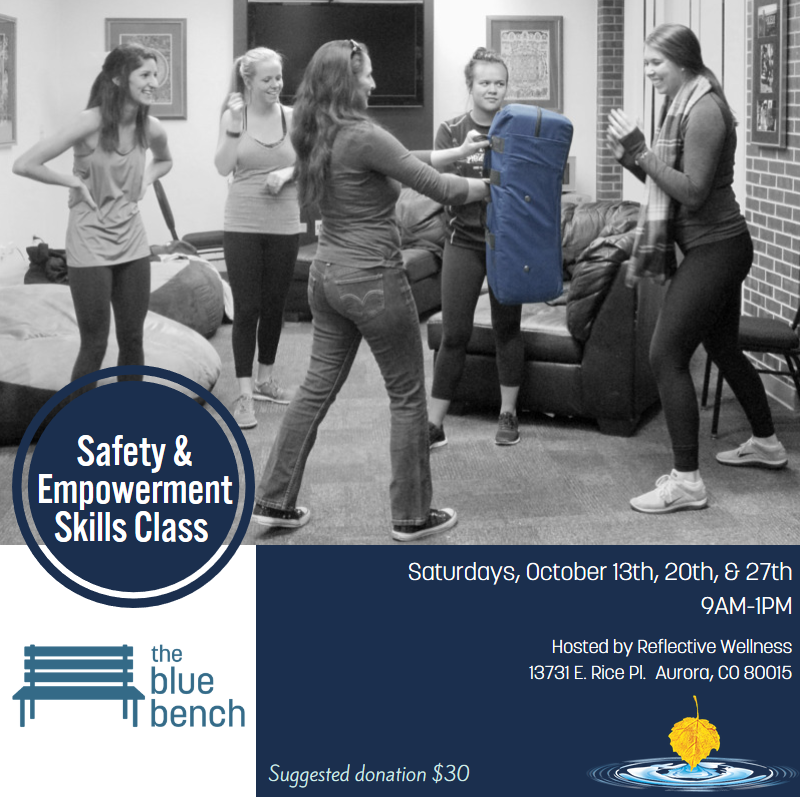 The Blue Bench is thrilled to announce our upcoming public Safety and Empowerment Skills for Female-Identified Participants 12-hour course, offered in partnership with Reflective Wellness:
Dates: October 13, 20, 27, 2018*
Time: 9am-1pm each day
Location: Reflective Wellness: 13731 E Rice. Pl. Ste. 200 Aurora, CO 80015
Suggested Donation: $30 per person
*Content builds throughout program; please plan to attend all sessions
ABOUT THE COURSE
The Safety and Empowerment Skills course is open to the public for female-identified teens and adults 13 years and older. This curriculum offers a safe space for participants to learn and practice verbal and physical assertiveness and self-protection skills. The curriculum is based on a toolbox approach – adding tools to participant skills for dealing with situations ranging from sexual harassment to life-threatening situations. Through this 12-hour course, participants will gain:
1. Understanding of the meaning of self-defense
2. Knowledge of the basics of Colorado laws about self-defense, sexual assault and sexual harassment
3. Understanding of the appropriate level of response to different kinds of confrontation
4. Skills for using stronger parts of their body against the weaker parts of an attacker's body
5. Ability to execute self-defense moves: use of voice, non-verbal assertiveness, defensive stance, moving in stance, kick to knee, hand and elbow techniques; wrist and torso grab releases; strangle hold releases; and ground-fighting techniques
6. Practice putting techniques together and thinking through an attack situation to safety
The highly-trained facilitators emphasize only a perpetrator is to blame for making the choice to assault another person – the victim is never to blame. Use of self-protection techniques is a personal choice and one that only the person being attacked can make using all the information available to them.
REGISTRATION
To register for the course, please complete the registration form in one of two ways:
(1) Use the link below to register online.
(2) Email Caroline (cyates@thebluebench.org) to hold your spot, and download the registration form below to bring to class with you (or complete and send scanned via email or via fax to 303.329.9964).