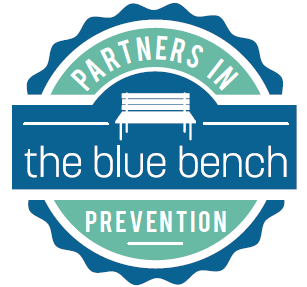 What does it mean to be a "Partner in Prevention"?
Your organization is committed to:
Offering one 5 - hour prevention program to students in each grade level over the course of the academic school year, including pre– and post– tests for program
Displaying The Blue Bench "Partners in Prevention" signage in your school as community
Posting The Blue Bench "Partners in Prevention" badge on your website and/or Facebook page as a community
Offering one skills practice "booster session" for active bystander intervention for each grade level.
Displaying Sexual Assault Awareness Month posters and campaign materials during April (student-led if possible!).
We are committed to supporting your organization by:
Providing 2 trained Prevention Specialists to facilitate programming
Creating and implementing customized scenarios/activities for the curriculum and booster sessions (skill building session following completion of program)
Providing ongoing Prevention Specialist staff support/guidance on Sexual Assault Awareness Month (April) campaigns/programs (will meet with constituent/student group leading efforts)
Offering reports about aggregate pre– and post– evaluation data for your organization
Listing your organization and website as a "Partner in Prevention" on The Blue Bench website
Acknowledging your organization as a "Partner in Prevention" through The Blue Bench Twitter and Facebook
Providing a badge for your website designating your organization as a trained "Partner in Prevention" committed to a safe environment
Providing "Partner in Prevention" signage designating your organization as trained by The Blue Bench and committed to a safe environment
Providing materials to give out to students in need of The Blue Bench client services
Why Partner with Us?
The prevalence of sexual assault in Colorado requires our urgent attention. 1 in 3 women and 1 in 6 men in Colorado will experience a completed or attempted sexual assault in their lifetime.
The Blue Bench has the tools for prevention in our communities, but only through collaboration can we work together to create change.
Using The Blue Bench prevention programs will contribute to the growing pool of data that helps us evaluate impact and informs ongoing improvements in prevention efforts in your community.
It makes being part of the solution easy! Your staff do not need to be experts on sexual violence prevention; The Blue Bench will provide all resources needed, including trained staff for program delivery and evaluation.
You will join the growing multi-disciplinary leadership in the Denver metro area dedicated to stopping sexual violence and supporting survivors. Check out the Denver Metro Community "It's On Us" video.
Our programs equip participants with the knowledge and practical tools they need to become active bystanders in prevention of sexual assault and supporting survivors. This collective action will create culture change.
Prevention programs ensure that survivors, and those supporting survivors, know your organization takes this issue seriously and can connect those affected to medical, legal, and support resources.